Cluck and Collect
Click and Collect direct from Foote's Pastured Produce at Chynoweth Farm.

Simply order and pay on line and you will be notified once your order is ready for collection. Our Cluck and collect pick point is open from 6am until 8pm. Orders before 10 am will be ready that afternoon, but please wait until you receive the conformation email or text before arriving at the farm.
The Cluck and Collect point is directly opposite the farm entrance behind the siding metal door. Please bring a suitable container for your order, this helps cut down on packaging used,
We want to reward our local customers, all cluck and collect order receive a 5% discount which is reflected in the price £7.79/Kg.

There is some disruption caused by the A30 road works, there is no access to the farm from the A30 via Marazanvose.


How to Find Us
To find the farm please use the google maps link: View in Google Maps

Or put the post code TR4 9DG in to your SATNAV, if this takes you to Killivose House please turn right out of the drive way (down the hill) at the crossroads turn right sign posted Marazanvose. Follow this lane ignoring the road closed sign until you reach the farm entrance on your left.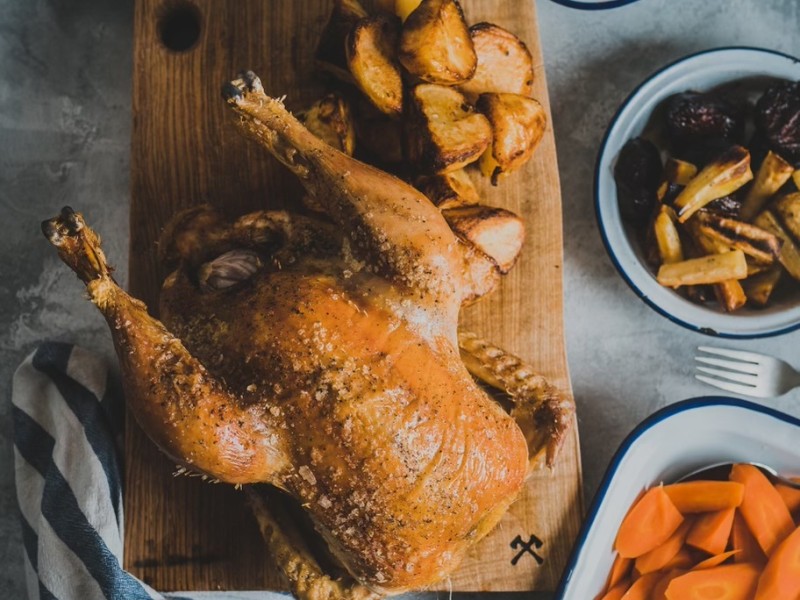 Small 2kg Chickens
Pack Size
Price per Chicken
Total Price

2 x Small 2kg Chickens

£15.58

per chicken

Total:

£31.16

3 x Small 2kg Chickens

£15.58

per chicken

Total:

£46.74

4 x Small 2kg Chickens

£15.58

per chicken

Total:

£62.32
Medium 2.2kg Chickens
Pack Size
Price per Chicken
Total Price

1 x Medium 2.2kg Chicken

£18.04

per chicken

Total:

£18.04

2 x Medium 2.2kg Chickens

£18.04

per chicken

Total:

£36.08

3 x Medium 2.2kg Chickens

£18.04

per chicken

Total:

£54.12

4 x Medium 2.2kg Chickens

£18.04

per chicken

Total:

£72.16
Large 2.4kg Chickens
Pack Size
Price per Chicken
Total Price

1 x Large 2.4kg Chicken

£19.68

per chicken

Total:

£19.68

2 x Large 2.4kg Chickens

£19.68

per chicken

Total:

£39.36

3 x Large 2.4kg Chickens

£19.68

per chicken

Total:

£59.04

4 x Large 2.4kg Chickens

£19.68

per chicken

Total:

£78.72
Extra Large 2.6kg Chickens
Pack Size
Price per Chicken
Total Price

1 x Extra Large 2.6kg Chicken

£20.25

per chicken

Total:

£20.25

2 x Extra Large 2.6kg Chickens

£20.25

per chicken

Total:

£40.50

3 x Extra Large 2.6kg Chickens

£20.25

per chicken

Total:

£60.75

4 x Extra Large 2.6kg Chickens

£20.25

per chicken

Total:

£81.00
Small Family Feast 2.8kg Chickens
Pack Size
Price per Chicken
Total Price

1 x Small Family Feast 2.8kg Chicken

£21.96

per chicken

Total:

£21.96

2 x Small Family Feast 2.8kg Chickens

£21.96

per chicken

Total:

£43.92

3 x Small Family Feast 2.8kg Chickens

£21.96

per chicken

Total:

£65.88

4 x Small Family Feast 2.8kg Chickens

£21.96

per chicken

Total:

£87.84
Medium Family Feast 3.0kg Chickens
Pack Size
Price per Chicken
Total Price

1 x Medium Family Feast 3.0kg Chicken

£23.37

per chicken

Total:

£23.37

2 x Medium Family Feast 3.0kg Chickens

£23.37

per chicken

Total:

£46.74

3 x Medium Family Feast 3.0kg Chickens

£23.37

per chicken

Total:

£70.11

4 x Medium Family Feast 3.0kg Chickens

£23.37

per chicken

Total:

£93.48
Large Family Feast 3.2kg Chickens
Pack Size
Price per Chicken
Total Price

1 x Large Family Feast 3.2kg Chicken

£24.92

per chicken

Total:

£24.92

2 x Large Family Feast 3.2kg Chickens

£24.92

per chicken

Total:

£49.84

3 x Large Family Feast 3.2kg Chickens

£24.92

per chicken

Total:

£74.76

4 x Large Family Feast 3.2kg Chickens

£24.92

per chicken

Total:

£99.68
Extra Large Family Feast 3.4kg Chickens
Pack Size
Price per Chicken
Total Price

1 x Extra Large Family Feast 3.4kg Chicken

£26.48

per chicken

Total:

£26.48

2 x Extra Large Family Feast 3.4kg Chickens

£26.48

per chicken

Total:

£52.96

3 x Extra Large Family Feast 3.4kg Chickens

£26.48

per chicken

Total:

£79.44

4 x Extra Large Family Feast 3.4kg Chickens

£26.48

per chicken

Total:

£105.92